When it comes to car sales and financing, the relentless search for efficiency touches all areas of a dealership.
Smart dealer operators are finding steps and tasks that can be connected, automated and perfected; they're reviewing workflow and expecting time and cost savings. For example, ask yourself this question: When a customer brings a car to trade with a balance due, how many days do you have to wait before you can remarket that vehicle? How long will that car sit on your lot, taking up valuable space, just because the "paperwork" takes forever? In today's market, if a trade-in sits for weeks due to the time it takes for payoff and title processing…it's an unacceptable obstacle to sales. Turning that workflow into a fast, consistent and trackable operation is what Accelerated Title does – and the result is a reduction in time by up to 70%, to as little as 4-6 days.*
If you're preparing to demo Accelerated Title, be sure to ask these three questions:
1. What are the practical benefits to vehicle payoff and title release technology?
Dealer operations benefit due to increased efficiency through a fast and automated process. Add reporting and tracking capabilities, and the technology reduces the time spent on administrative follow up. In terms of actual sales operations, it's simple: a trade-in vehicle can be remarketed faster, and with less hassle. That's great for the bottom line.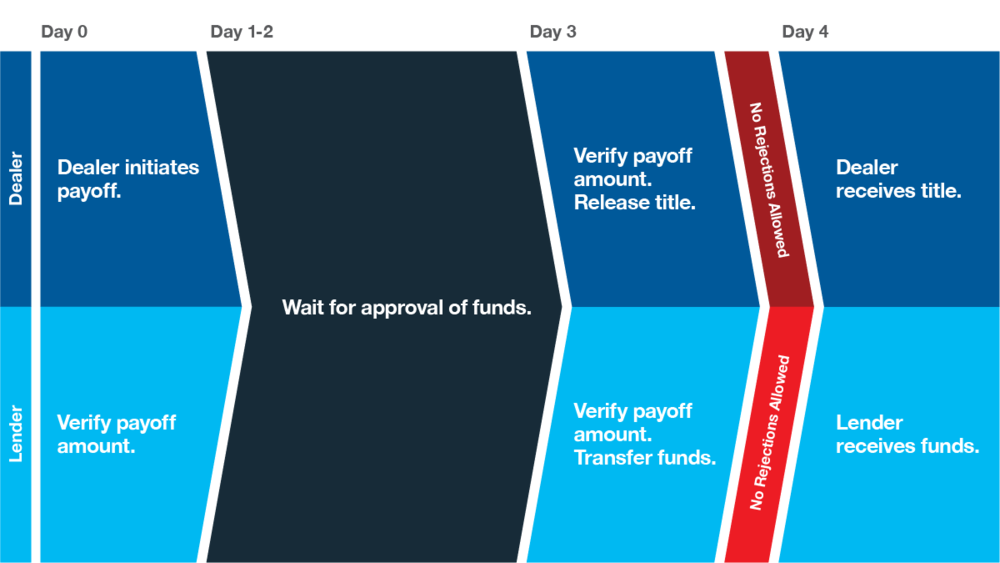 2. How does Accelerated Title speed the process of title release and payout?
By streamlining the connection between dealer and lender. For example, dealers obtain payoff quotes directly from lenders through Dealertrack, allowing for precise payoffs. Accelerated Title then utilizes ACH processing to transfer funds, expediting the timeline for the lender to receive funds and trigger title release. Central to this is the integrated use of Dealertrack Title Management data; this allows for the speed of title delivery and creates a one-of-a-kind technology solution. Through automation, poorly-defined processes are also corrected, and made consistent.
3. What type of reporting and tracking does the solution support?
This is a critical question, because when it comes to workflow knowledge is power – and data is king. As such, dealership personnel should be able to track status, get on-demand reporting, and have 24/7 access to statements or transactions. It's a significant efficiency gain your team.
Click here to learn more about Accelerated Title.
*Based on average industry timeframe for vehicle title release and vehicle payoff process of 18+ days, as determined by Dealertrack data.