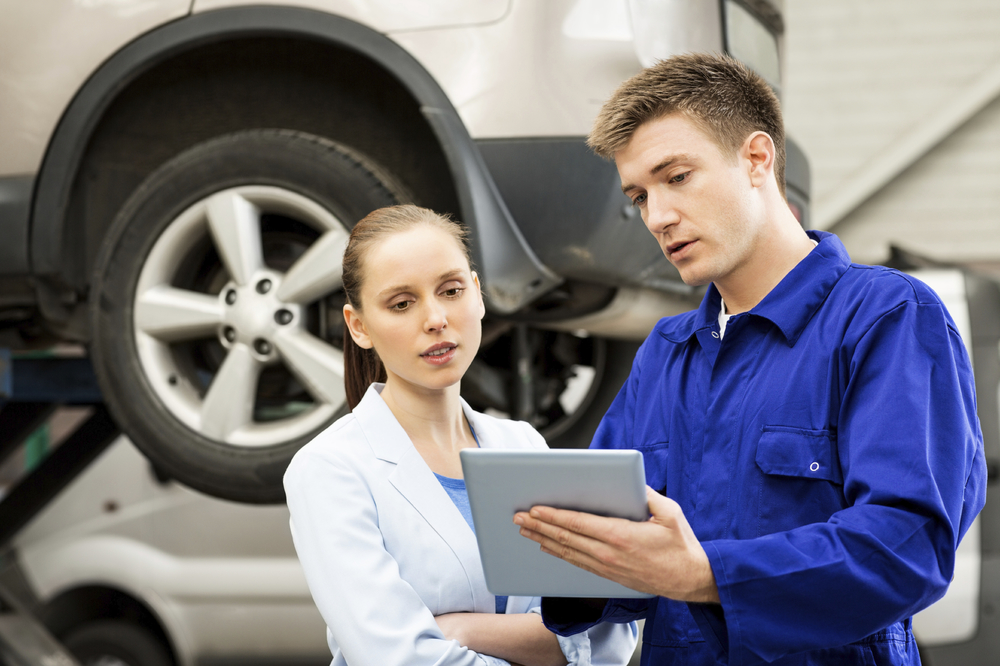 "Mobile" has been one of the biggest buzzwords in our industry over the past couple of years. From configuring vehicles on smartphones to F&I product tours on tablets, dealership personnel have discovered that using mobile devices can increase efficiency and transparency – while giving customers more control. It's an effective way to boost vehicle sales, products-per-deal-sold and CSI scores.
So what's the next great frontier for mobile? Your service department. Integrate a multipoint inspection tool with mobile functionality into your service bays and you'll deliver that same transparent and efficient customer experience that is the key to keeping customers coming back again and again. Here's what it can do for your dealership:
Drive customer trust
In the automotive space, we have to build trust if we want customers to come back. For the service department, that means getting rid of the smoke and mirrors and instead making the customer a part of the inspection process. Mobile does that. With an enforced multipoint inspection tool that includes mobility, a technician can document every step of the inspection process on a phone or tablet – including real photos of  vehicle issues – and show the customer exactly what is going on, right there in the lane. Some applications also channel that information into an automobile status report that can be printed and sent home with the customer.
Using mobile technology to make the customer a part of the process is where real trust is earned. Instead of a service advisor sitting behind a desk and telling the customer what needs to be done, they meet in the middle, scroll through the photos and line items together, and make decisions on next steps. This does away with the old school generic process and replaces it with an individualized approach that puts your service department and your customers on the same team.
Increase closing percentage
A clear presentation of what needs to be taken care of on a vehicle, presented right there in the service lane where a customer can scroll through recommendations, is the ultimate way to get customers back in your store. Think about this: Not only is your technician making individualized service recommendations to fix why the vehicle was brought in, but he can make maintenance recommendations for future services, and display them with details and photographs on a mobile device. The customer sees the leaky oil pan that brought him to your door, but also sees that the brake pads are getting a little worn and should be taken care of before the next service. These images become part of a vehicle service recommendation, which is then presented to the customer in an open and transparent way, taking the pressure out of the sale and increasing your overall closing percentage.
 Boost CSI score
Integrating mobile technology into your service department is also a proven way to increase your CSI scores. The J.D. Power 2014 U.S. Customer Service Index (CSI) Study found that the industrywide CSI score when a tablet is used is 838, compared with 802 when a table is not used. The key performance indicators for the CSI include much of what we've been talking about, including being focused on customer needs (not following a generic approach), providing helpful advice (remember, a picture is worth a thousand words), and keeping the owner updated about vehicle status (showing them with individual automobile status reports exactly what has been done and what needs to done).
It is worth mentioning that adding technology like mobile functionality to your dealership processes is not a silver bullet. It has to be used correctly to return positive results. The beauty of multipoint inspection tools with mobility is that they force your techs to complete a thorough inspection and sell customers on services they actually need. However, you still need to be sure your techs are documenting issues with photos, and reviewing that information with the customer in the lane, to build trust and the lasting relationships you want.
When you implement a forced multipoint inspection tool with mobility that allows for an individualized approach where the customer is part of the process, you can't help but do a better job servicing vehicles and customers. Transparency through images and detailed inspections puts you and the customer on the same team, resulting in more trust, more loyalty, higher CSI scores, and greater profitability.
Related links
3 Steps for a Smoother Annual Parts Inventory
Top 3 Questions Service Managers Should Ask