The automotive industry is on pace for record sales this year with new vehicle sales predicted to reach more than 16 million, and this spring, visits to dealership websites are also up dramatically from last year.
Earlier this month, our colleagues at Dealer.com, a Dealertrack solution, reported on their blog and in an Automotive News story that in April, there was between a 13-14 percent increase in dealership website visits and a 19 percent increase in form submissions on those sites year-over-year.
With this swift uptick of automotive shoppers visiting more dealership websites, we are seeing more and more dealers making investments in uniting and streamlining their online to in-store sales workflow. For many dealers across the country, Digital Retailing website tools are proving to be the answer for transforming their online/in-store sales process, improving customer engagement and overall CSI performance, and increasing lead-to-sales conversions.
As you can see from a study of our Digital Retailing solutions here, automotive retailers are benefiting tremendously from the use of Digital Retailing tools on their website: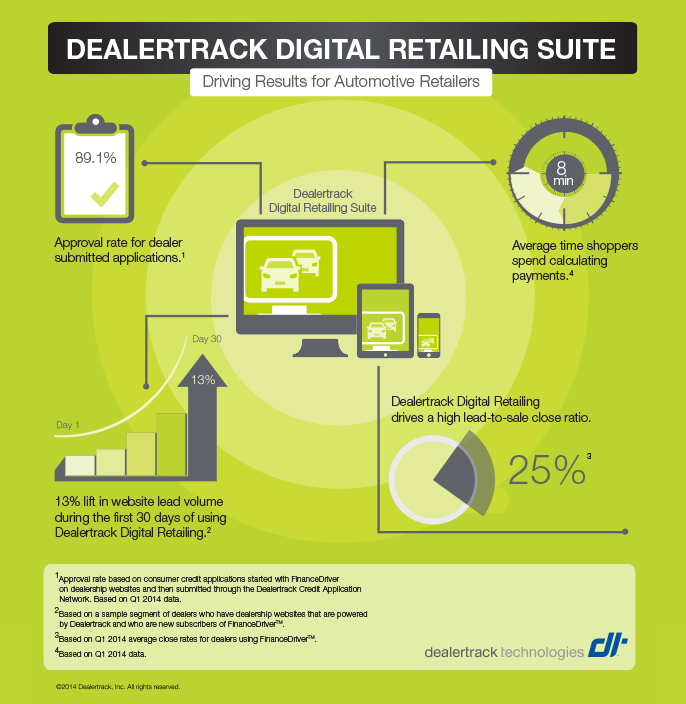 To see how one dealer – New York automotive group Driver's Village – is closing 26 percent of deals generated using Digital Retailing tools, click here.
In addition to helping drive impressive close rates and generating more finance-ready and trade-in ready deals, Digital Retailing tools will allow your dealership to:
Save your shoppers and staff time working deals, and get a detailed look at who your shopper is, what they are looking for and what they can afford before they even hit your showroom.

Help shoppers determine their right fit with the most accurate dealer-controlled monthly lease and loan payments available.

Obtain full transparency into your shopper's trade-ins and give them the option to calculate a dealer-specific trade-in offer without leaving your site.
Implementing dealer-controlled Digital Retailing tools on your website today can help position your dealership well for this summer selling season, and give you a clear competitive advantage in moving past basic website lead generation and onto real-time deal generation.
Ali Mendiola is Senior Manager, Business Development, Digital Retailing for Dealertrack.