The automotive industry has made great progress in recent years in terms of adapting to consumers' embrace of online purchasing, both at the OEM and individual dealer level. And for good reason. In the past decade, the average number of unique dealer visits has declined, while Internet shopping continues to grow. According to J.D. Power and Associates, in 2005, consumers visited 4.1 dealers before purchasing a vehicle. Five years later that number had dropped to 1.3, and it is likely even lower in the coming years.
Prospective buyers are kicking the tires on their computers, tablets and increasingly on their smartphones instead of on your lot. But just because you have a website and inventory listed online – or spend a large portion of your marketing budget in online media – doesn't mean you are where you need to be. Not even close.
Here's why:
Most dealers are currently engaged in Digital Marketing, which brings consumers to your inventory.

Where you want to be is in Digital Retailing, which converts those same consumers from shoppers to buyers.
That's why smart dealers are taking the next step, driving the consumer journey instead of passively waiting for the leads to sell themselves. By enabling consumers to complete more of the buying process online before coming to the showroom – using your parameters – you gain a competitive advantage and greatly increasing the ROI on your digital spend.
By helping buyers go deeper into the sales funnel online – from finding inventory, calculating payments, valuing their trade and applying for financing – you will be able to focus on the quality of the leads, instead of the quantity. Take a look at this Digital Retailing model that helps maximize lead-to-sales conversions: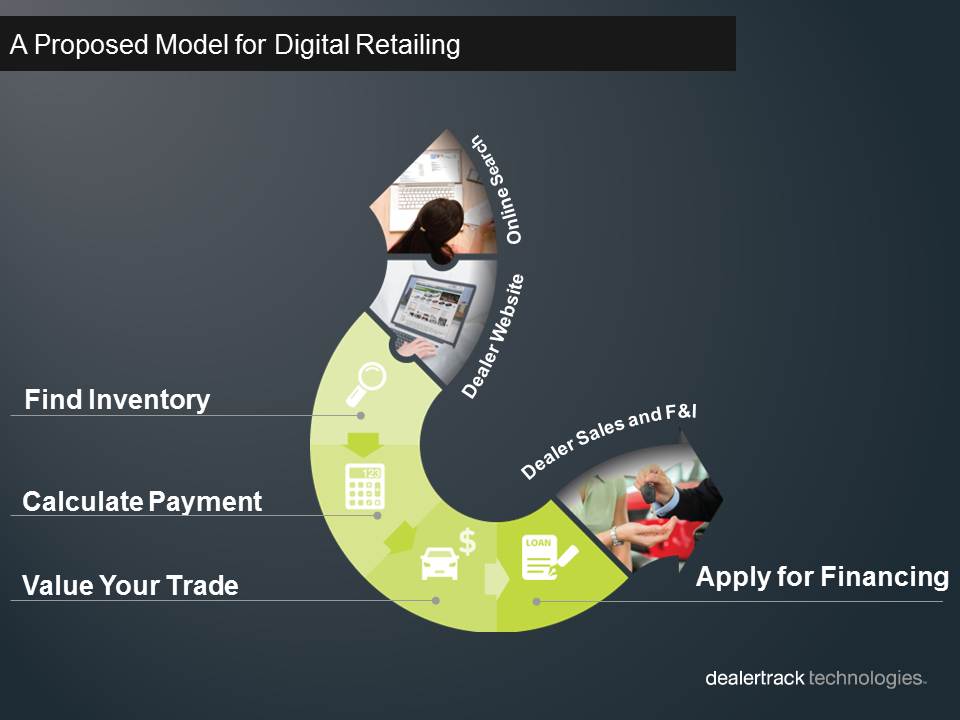 The consumer journey starts online with their research and inventory check. That's Digital Marketing.
But instead of ending there, progressive dealers who embrace Digital Retailing enable their prospective customers to "pencil the deal" by presenting a clear picture of incentives and interest rates, pre-qualifying for loan approval, and getting their trade evaluation. So rather than taking the M.S.R.P. and dividing by number of payments, they have a realistic monthly payment number in hand before ever stepping onto a dealer lot. That helps separate the shoppers from the qualified buyers.
From there, it is an easy step for the sales and F&I personnel to complete the transaction in-store for deal finalization and vehicle delivery. The consumer feels empowered by an enhanced online/in-store shopping and purchase experience. You enjoy a higher conversion rate from both your own and third party site leads. And best of all, you've supercharged your online spend across the board.
Let us know your thoughts.